Eco.business Fund Sub-Saharan Africa Development Facility is supporting the Export Trading Group (ETG) in Kenya to align its business to the UN development goals and become a leading example in the region for sustainable agricultural intensification using modern technology and data analytics. The goal of this pilot is to improve commercial lead farmers' productivity and profitability whilst enhancing the environmental risk management capacity and climate resilience of ETG's maize, coffee and tea supply through improved soil and crop nutrition management. To achieve this, FutureWater formed a consortium with Holland Greentech, HiView and ThirdEye Kenya to conduct a drone-assisted agricultural intensification project that will inform climate-resilient strategies and promote data-driven climate-smart production practices among ETG's farmers in Kenya. Together we will employ the use of flying sensors (drones) to monitor the application of these practices as well as to gather data that will be used to develop crop calendars and to develop baselines to assess productivity improvements and the environmental impact of the Climate Smart Agricultural (CSA) practices, and subsequently inform commodity sourcing plans. In addition, soil samples will also be collected and analyzed, and the data used to inform ETG's input supply plans. The pilot will encompass 3 value chains (maize, coffee, and tea) will involve up to 20 lead farmers participating from each value chain. The ultimate objective of this pilot project is to develop a demonstration case for sustainable agricultural intensification that can deliver double bottom line returns - profitable and resilient supply chains – by applying evidence-based climate smart agricultural techniques.
In Sub-Saharan Africa, population growth, associated food demand and pressure on natural areas have all increased greatly. Agricultural intensification – more production from the same acreage – remains a key solution to these challenges. One of the cornerstones of intensification is that of a higher and more productive use of inputs, such as fertilizer and water. So far, the average production has remained low and a significant yield gap still exists, mainly among small scale producers (SSPs). The limiting factors are (partly) caused by weather and climatic changes but also by a lack of agronomical knowledge, proper inputs, fertilizers and (climate smart) irrigation techniques. Thanks to the digital revolution Africa is going through, many commercial farmers already have access to a wide range of agricultural services. However, such solutions are not yet accessible to SSPs due to their costs.
To leapfrog the transformation of African agriculture, FutureWater, HiView, Holland Greentech (HGT) and ThirdEye Kenya bundle their strengths by merging key frontier technologies into an agronomic advisory service that allows improving the productivity and profitability of maize, tea and coffee farmers in five districts in Kenya. State-of-art technologies that will be developed and packaged into one integrated solution are low-cost flying sensors (drones), soil testing, climate smart inputs, farmer coaching and an interactive online planning & monitoring portal. Our unique Climate Smart Farming technology is disruptive as it collects data at low cost and links directly with the solutions to close the yield gap of farmers.
Over the past years FutureWater and HiView managed to develop a low-cost agricultural drone technology which revolutionized the applicability of geo-information services for African farmers. With the flying sensor service successful local enterprises were established that provide a low-cost drone service to small- and largescale farmers, both in Mozambique and Kenya. ThirdEye's young agronomist-drone operators support farm decisions based on the flying sensor crop mapping that is viewed on a tablet. Integrating crop nutrition advisory and other improved agronomic practices into the ThirdEye service will bring the (extension) service up to the next level. In this project, we complement the work of flying sensors by ThirdEye with the agronomic service model of Holland Greentech including input distribution, demonstrations and field days, farmer training and coaching and soil testing.
By merging agronomic advisory services making use of low-cost flying sensors, soil testing, climate smart inputs, farmer coaching and an interactive online planning & monitoring portal, the farmer is able to improve his/her:
Planning: What crop to grow in the season based on expected weather, crop prices and market demand;
Cropping: When to sow the seed based on the type of crop and predicted weather
Management: When and where to irrigate, fertilize and apply pesticide. This can help reduce the amount of inputs used in the farm and increase yields, thus helping with profitability.
Harvest: When to harvest the crop based on market prices and predicted weather.
Market linkage: The ability to make informed decisions on where to sell their produce, which may increase their income.
Climate resilience: Option to order climate smart inputs and technologies from different suppliers. These technologies include hybrid seeds, propagation units and greenhouses, (drip) irrigation equipment, soil analysis, biological soil enhancers and biological pest control products.
The service comprises of (i) drone flights executed by AgroPilots (functioning as both pilots and agronomic advisor), (ii) soil tests and soil fertility advisory, (iii)  aerial imagery processing & interpretation, (iv) agronomical advisory on inputs & irrigation and (v) advisory on sourcing plans and access to market. Flying sensors and state-of-art data analysis will be used to monitoring the progress of the newly applied practices. By identifying field specific limiting factors that currently constrain productivity of maize, tea and coffee farmers (using flying sensors) and by providing concrete climate smart solutions, farmers can better adapt to climate change and can increase their field production, leading to more profitable farmers and an improved food security for the future to come.
Flying sensor data will be gathered, processed and analyzed during the first growing season, which serves as a baseline (reference) for the rest of the project period. The imagery acquired with the flying sensors (at regular intervals) will also be used in combination with FAO's AquaCrop crop growth model to make estimations of crop yield (or land productivity). This will require additional activities in crop surveying and field observations and further imagery processing to achieve maps of the vegetation status and canopy cover. The approach for calculating land productivity is based on light use efficiency models which converts canopy cover to biomass production and is tailored to potato with crop-specific parameters. The end result will give information on the crop yields achieved from each plot, as shown in the figure below.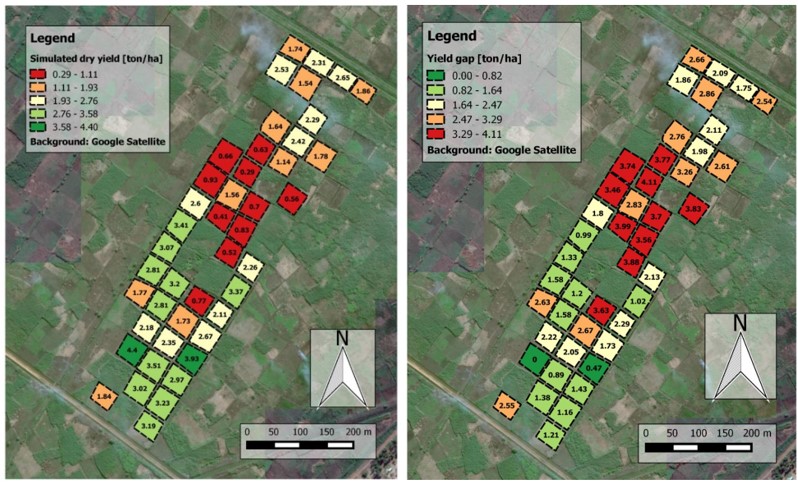 After the initial data gathering and analysis process, the findings will be translated into action plans for the lead farmers. They will be trained and coached to improve their farming practices and use climate-smart agricultural (CSA) practices. Following this step, we will facilitate access to inputs and conceptualize distribution systems for agro-inputs for the lead farmers. After providing the farmers with this valuable advice, data will be gathered again using flying sensors and soil samples over the course of the next growing seasons. Implementation of the farmer action plans, training of farmers, and advisory services directly based on the flying sensor vegetation status maps are expected to contribute to an increase in crop productivity. Crop yield calculations will be done at the end of each season.