In November, NL EVD International commissioned a call to write a proposal for an 'Early Deliverable' to be presented in Vietnam. The call to write a proposal was send to the partners of the 'Convenant Informatieketen voor Water en Klimaat' (CIWK). FutureWater, among Neelen & Schuurmans and HKV, were selected to present an 'Early Deliverable' in Ho Chin Minh City during the Water & Climate Services workshop on the 24th of November. The goal of this 'Early Deliverable' was to demonstrate to the people in Vietnam what the Dutch water sector can offer to Vietnam, with respect to Water & Climate related services. This project was performed in collaboration with the Netherlands Space Office (NSO) and the Netherlands Water Platform (NWP).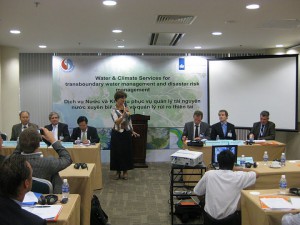 During the Water & Climate Services workshop in Ho Chin Minh City, Wilco Terink from FutureWater presented the Drought Monitoring and Impact Assessment Toolbox (DMIAT) as 'Early Deliverable' for Vietnam. The DMIAT was developed by FutureWater over the last couple of years, and it can be seen as a combination of tools, models, remote sensing and decision trees. The DMIAT is a framework to assess the four consecutive stages of a drought: meteorological drought, agricultural drought, hydrological drought, and socio-economic impact assessment. Last year the DMIAT was developed for the Mekong River Basin Commission (MRC).
The presentation during the workshop was closed with a discussion between Vice-Minister Lai, dr. Nguyen Xuan Lam, Prof. Cees Veerman, the Dutch experts, and the Vietnamese stakeholders.