Press release
The Valle del Cauca, in the western part of Colombia, is the country's third-largest economy. The valley does have a lot of surface water and groundwater available, but sustainable use of these water resources is frequently under strain. Sugar cane is an important source of income. It is also a crop type that is heavily water dependent. On July 10th, HERMANA, a new tool to enable sustainable water resources management for the Valle del Cauca was launched.
Improves communication on decisions made
The local governmental organisation, Regional Autonomous Corporation of Valle del Cauca (CVC), is responsible for water management in the area. They emit daily and monthly bulletins regarding water demand and availability, authorise permits for water use, participate in the monthly planning of water levels in an upstream reservoir, and communicate with a number of other stakeholders in the area. Their work is in part comparable with that of the waterboards in the Netherlands.
Data and information about water resources is of course available at CVC, but it is diffuse. They recognized the need for an integrated system to support decision-making in a clear, transparent manner, enabling them to reproduce the process when needed. A tool for making decisions as well as providing indicators to improve efficient water use will make communication about decisions easier. The tool was officialy launched July 10, 2019
HERMANA information chain
During the first step of the HERMANA implementation, the Dutch Water Authorities and Deltares worked together with CVC to identify the various decision-making processes and related need for information. After this participatory process, the HERMANA platform was implemented by smartly connecting the following 3 existing products:
The Delft-FEWS Colombia system, which provides access to all relevant weather and water information, models and forecasts from CVC and IDEAM (Colombia's national hydrology and meteorology service);
FutureWater's InfoSequía tool, which provides satellite information-based drought indicators for the entire area;
HydroLogic's HydroNET system, which combines the information from InfoSequía and Delft-FEWS Colombia with local knowledge and data from CVC and generates personalised online dashboards and reports tailored to CVC's information needs. Examples include a dashboard showing the water available for the city of Cali, flood forecasts for the River Cauca and a drought dashboard for the CVC area.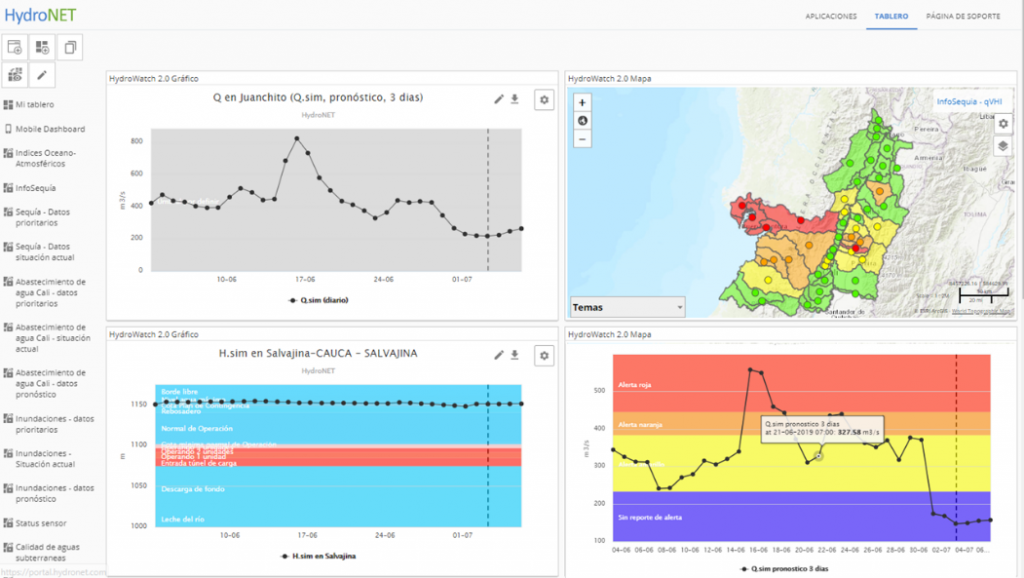 This information and partner chain approach ensures that the capability of each system and partner can be optimally used. The result is a cost-effective and scalable solution that can also be applied in the rest of Colombia and beyond.
Related to decision tools of the Dutch Water Authorities
HERMANA (meaning sister in Spanish), an abbreviation for HERramienta para el MANejo integral del Agua, is based on the real-time decision support tools used by the Dutch Water Authorities. At CVC, it has been tailor-made by experts in surface water, groundwater, decision support systems, water management, and governance both from the Netherlands as well as from Colombia. We appreciate the support and cooperation of the Technical Directorate of Environment from CVC as well as staff from other Directorates who have participated in the HERMANA process thus far.
This work was financially supported by the Netherlands Enterprise Agency (RVO) through a "Partners for Water" grant, by the Corporación Autónoma Regional del Valle del Cauca (CVC), and by in-kind contributions from Deltares, HydroLogic, FutureWater, and the Dutch Water Authorities. The operational testing and implementation of InfoSequía into HERMANA has been partially funded by the European Union's Horizon 2020 Research and Innovation Programme under grant agreement No. 700699.
The paper about this project is going to be included in the book of proceedings of the IAHR world congress 2019.